Frequently Asked Questions
Can piano lessons raise SAT scores? What is the value of music study?
Consistent intensive piano study will enhance and advance cognitive development improving the way a person thinks and responds to stimuli. Research based scientific studies prove that piano study develops new pathways in the brain. Therefore, development of neurons in the brain through piano study will result in significant improvements in IQ, memory, brain response, listening skills, literacy, math, science, verbal memory, and visual/spatial processing. Development is also seen in creativity, poise, attention span, self-confidence, and social skills.
What age is recommended for beginning private piano lessons and does your studio accept beginners?
I recommend students whom have had no prior music experience begin lessons between the ages of 5-8. I love teaching beginning students and enjoy watching them grow musically.
How do you know if your child is ready to begin private piano lessons?
Precocious children often read books and understand mathematical concepts early. I recommend waiting until your child can sit down independently and focus to read a book or to do basic math at 5 to 8 years old.
Can my child take a few lessons just to try it to see if she/he "likes it" or to see if it will "work out"?
It takes many of commitment to develop the skills to play the piano. The Piano Studio of Janisse Foresti does not accept students who want to just "try it out" to see if they "might like it" or to see if it "might work out".
Why not take lessons from the "budget" teacher down the block, after all my child is just a beginner?
Students develop life long habits even from the beginning. Poor practice habits and hand/finger position issues will develop very quickly with possible permanent physical injury done to the hand, arm, and/or wrist. Poor habits develop and will limit the student's potential. Piano lessons from an experience and well qualified teacher are an investment in your child's future. It is a proven fact that piano lessons teach skills such as discipline, poise, etiquette, self confidence, etiquette, and solid study habits. Research proves that piano lessons also raise SAT scores, math, and reading academic successes
How long are private lessons?
Level Preparatory & Level 1 take one 30 minute private lesson weekly.
Level 2, 3, 4, & 5 pupils take one 45 minute private lesson weekly.
Level 6, 7, 8, 9, 10, Panel, Associate, & Licentiate take one 60 minute private lesson weekly.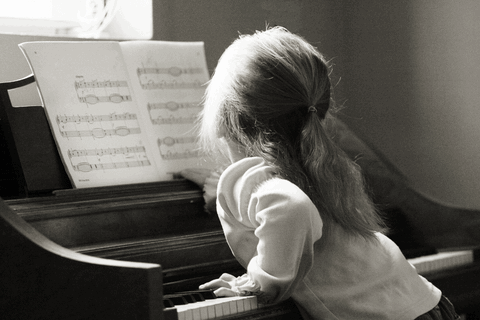 Do parents need to attend lessons?
Parental involvement at private lessons and home practice guidance is strongly encouraged and recommended for children ages 5-8 when they are learning home practice skills. I recommend parents to actively participate with the pupil during private lessons and home practice sessions until at least age 8.
What if the parents don't know anything about music or piano?
Great question!! In my studio, parents are encouraged to learn and take notes, listen, watch, and actively participate during private lessons to help remember how to practice with their child. Any determined parent will be able to learn with their child!
"Can I use my neighbor's piano?" "Do I need a piano in my home to take lessons?" "Can I use an electronic or digital keyboard?"
Daily practice is imperative for the student's progress and therefore mandatory that all students have a quality acoustic instrument in their own home. Electronic and digital keyboards are very different from an acoustic piano and may NOT be substituted. If you do not already have a quality acoustic piano, I will have recommendations for you.
How much practice is expected outside of the private lesson?
Keep in mind that pupil's practice goals are determined on an individual basis. Remember, what you put into it is what you will get out of it.
Level Preparatory & Level 1 typically practice about 30 minutes daily
Level 2, 3, 4, 5, & 6 have a recommended practice of 45 minutes daily.
Level 7, 8, & 9 have a recommended practice of approximately 75 minutes daily.
Level 10 have a recommended practice of 90 minutes daily.
Are the Monthly Musicianship Classes required?
Consistent attendance at the monthly Musicianship Classes are mandatory. Critical listening skills, advanced theory concepts, and practice exams are reinforced in these super important classes as well as camaraderie and collaboration with peers.
What types of skills are taught in private lessons?
Janisse believes in a well rounded student. All levels of students study rigorously Music Theory, Technique, Musicianship, Sight-reading, Rhythm, Memorization Techniques, Ear Training, and a strong emphasis on performance and practice techniques. All students study a variety of genres.
What performance and assessment opportunities do your students have?
Royal Conservatory Levels Preparatory to 10, Associate Degree in Piano Performance (equivalent to a junior college degree), Associate Degree in Piano Pedagogy (equivalent to a junior college degree), and Licentiate Diploma in Piano Performance (equivalent to a Bachelor Degree)
Royal Conservatory Academic Assessments Levels 1-8 Theory, History 9, 10, and ARCT, Level 9 and 10 Harmony and Counterpoint. ARCT History, ARCT Harmony and Counterpoint.
Certificate of Merit levels 1-10 and Panel
United State Open Music Competition
CAPMT Competition and Evaluations
Formal Studio Recitals
Piano Concerto Auditions with live orchestras
Professional Recording Opportunities
International Music Festival Candidate Opportunities
Studio Performance Classes
Piano Parties
Master Classes
MTAC Stanislaus Branch Recitals, Honors Recitals, and Festivals